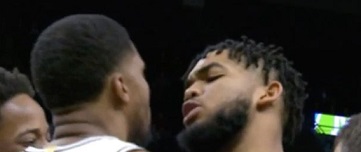 Rudy Gay Tries to Fight the New Gangster Version of Karl Anthony Towns for swinging his elbows during Spurs vs Timberwolves.

KAT is going viral for almost fighting again. This time Rudy tried to throw hands with Karl Anthony Towns, for wildly swinging his elbows on the block. Rudy Gay ferociously yelled "Watch your f****** elbows dawg", which made KAT get in his face.
After his fight with Joel Embiid caused him to get suspended, Karl Anthony Towns had to back off, and cooler heads prevailed. KAT seems to have a more gangster personality this season, because he doesn't take any back talk from anyone so far. In seasons past, Karl Anthony Towns was known as one of more "softer" player in terms of personality.