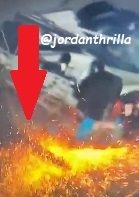 Ryan Newman Gets In Horrific Car Crash Then Gets Hit While Upside Down at 195 MPH at Daytona 500.

Ryan Newman got in a car wreck at Nascar Daytona 500. The crash caused Ryan Newman's car to flip upside, then he got hit by another car going a 195 mph causing his car to burst into flames.

There still hasn't been an update on his condition, but judging by how the serious the accident lucky it can't be good.
All we can do is hope and pray, he lives to see another day after an accident like this.
Pray for Ryan Newman.
Author: JordanThrilla