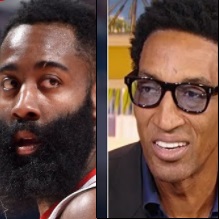 Scottie Pippen Says He Would Average 40 Points Playing for Today's Houston Rockets to Diss James Harden Scoring 55. Co-Host reveals Kobe Bryant 2005-2006 season is highest scoring season in NBA history if you statistically adjust pace to today's era.

Scottie Pippen isn't impressed by James Harden scoring, like most people who understand basketball. He made it known again today when he dissed James Harden, saying he could easily average 40 ppg if he played for Today's Houston Rockets team on The Jump.
Scottie Pippen alluded to how James Harden regularly ignores wide open teammates just to take low percentage shots and inflate his stats. He also alluded to how the era is playing a fast paced style, compared to the slower pace of 90's.
His co-host added in some very interesting facts. He stated a list of 3 players who had the highest regular season scoring averages in a single NBA season if you adjust for pace. Here was the list in order.
1. Kobe Bryant
2. Michael Jordan
3. Wilt Chamberlain
James Harden, whom many people call the "greatest scorer ever" isn't on that list. Scottie Pippen definitely has a point, James Harden scoring isn't impressive and always gets exposed in the playoffs. Scottie Pippen knows who the real James Harden is.