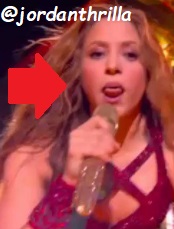 Shakira's Tongue Wagging Move During Super Bowl LIV Halftime Show Goes Viral.

Usually the highlight of a Shakira performance is her patented twerking moves, but this year it was her tongue that stole the show. When Shakira looked into the camera, stuck tongue out, and made a weird noise, it instantly became a legendary moment.

It's not clear what the sound or tongue move was meant to represent, but it sure was funny.
Who knew Shakira would become a part of Super Bowl history in this way.
Shakira and J Lo's twerking contest which you can see here, has also gone viral.
Author: JordanThrilla