Shaq Daughter Dunks at 13 Years Old on 10 Foot Rim in Viral Video.

Shaq's daughter is already dunking and she's only 13. In a new viral video Shaq daughter shocks her two brothers by throwing down a tomahawk slam dunk with ease on a 10 foot rim.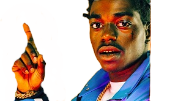 After she successfully completes the dunk you can hear her younger brothers say "that's 10 feet, that's 10 feet".
Shaq's daughter is no average 13 year old. She is already 6ft 3, which towers over most grown men on the planet. At the rate she's growing she could end up being the same height as Shaq as a senior in college.
It's almost a given that she will be in the WNBA, and it could rejuvenate the league. Especially if she ends up on the LA Sparks. It would be like the Shaq Diesel era all over again in Lakers city.
Let's hope her passion for basketball continues to grow as she gets older. It would be very cool to see her throwing down dunks in the college and the WNBA.
Author: JordanThrilla