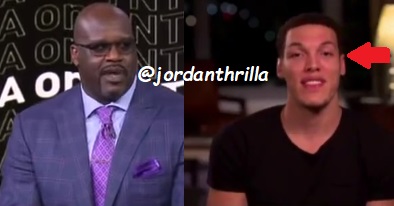 Shaq Tries to Snitch on Aaron Gordon of Being High During Interview on Live TV.

Aaron Gordon appeared to be high as a kite from smoking marijuana during an interview, and Shaq was trying his best to hint that he was. Shaq kept repeatedly making "high" references then mentioned "Cloud 9".

Aaron Gordon eyes were red and low as he laugh uncontrollably at Shaq's attempts to implicate him. You could tell he started getting a little nervous when Shaq said "high" the 6th or 7th time.
Shaq is a reserve police officer in South Florida allegedly, so that may explain his urge to try to get Aaron Gordon in trouble on live TV.
Author: JordanThrilla