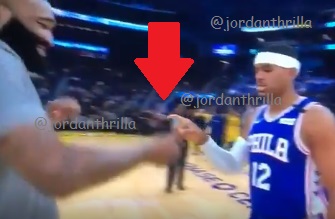 Tobias Harris Creates the "Coronavirus Handshake".
The coronavirus handshake may be the next trend to sweep the NBA, and it was started by Tobias Harris. The "Coronavirus handshake" consists of pretending to high five your teammate, then spraying your hand with imaginary sanitizer to kill germs.
Tobias Harris did it for the first time on Live TV during the Sixers vs Warriors game. Ironically Stephen Curry was out sick for this game.

To some people the Coronavirus Handshake might be the most controversial high five idea of all time. To others it is probably the coolest, since it promotes cleanliness.
One of the main ways Coronavirus is allegedly spread is though hand to hand contact. Maybe everyone in the world needs to start doing "Coronarvirus Handshakes". Sixers may not win a championship, but at least they can say this handshake was created by one of their players.
Author: JordanThrilla