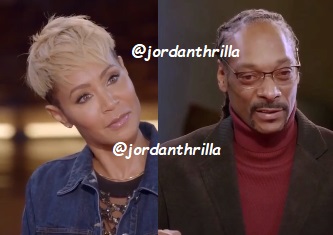 Snoop Dogg Disses Tupac Throwing Him Under Bus during Red Table Talk Interview with Jada Pinkett Smith and Goes Viral.

Fans were shocked when they heard Snoop Dogg throw Tupac under the bus during a conversation of his past lyrics. Snoop Dogg talked about how 2pac was bad influence on him when he was trying to be a better person individually.

It seemed strange for him to bring Tupac up because the story didn't really need the bit of information in it. It seemed more like Snoop Dogg just wanting to throw Tupac under the bus on national TV.
With Jada Pinkett there to boost the negative stories, it made the Snoop Doggs comments even more profound. Fans everywhere were dumbfounded at what they had just heard. Snoop Dogg was one of Tupac's closest friends during the height of his career.
Overall, it seems the whole interview is really just a facade for Snoop Dogg to repair his image after receiving public backlash for various issues. One that included painting 2pac in a bad light for no reason.
Author: JordanThrilla