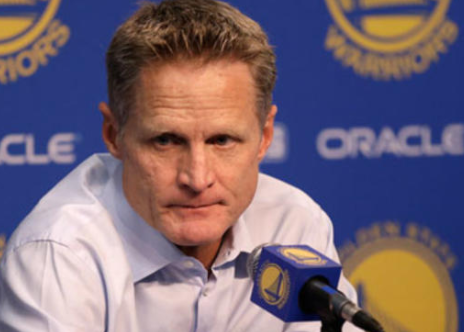 Social Media Goes In on and Clowns Steve Kerr getting Exposed when he actually has to coach Warriors this season, with only 1 MVP after Warriors lost by 28 to OKC Thunder. Warriors are really bad, and Steve Kerr is getting exposed now that he actually has to coach, since he has only one MVP player. I wrote an article before the NBA season, about Dangelo Russell predicament. I predicted this season would be a disaster for the Warriors mainly because of how bad they would be defensively with a Russell/Curry backcourt. Turns out I was right, but they are even worse than I thought, because Steve Kerr seems to have trouble coaching young players that need coaching. Twitter is having a field day with the jokes clowning Steve Kerr:
Steve Kerr with his "set" rotations is making the Warriors even worse than how bad they were supposed to be. During the first game of the season, I saw him pull Dangelo Russell from the game while he was shooting streak and the only player making shots. Warriors got annihilated in that game as well.
A lot of people used to say that only haters thought Steve Kerr wasn't really coaching the Warriors. This season would be the season Steve Kerr could prove those "haters" wrong. However, it looks like haters weren't hating after all, and where seemingly actually right. Steve Kerr is looking like one of the worst coaches ever.