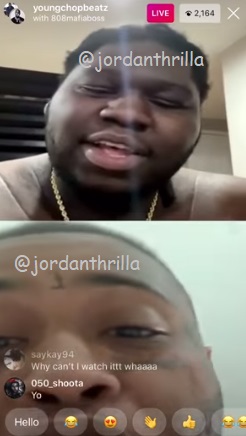 Southside Makes Young Chop Almost Cry on After They Start Beefing on Instagram Live. Southside tells Young Chop he is going to piss on his mama grave in new video.
Southside and Young Chop were beefing on IG Live, and it ended up with Young Chop almost in tears crying.

Young Chop started off the beef by talking about Southside's girl and a time he got robbed by Crips. Young Chop also said Southside had to pay to get his chain back.
That's when Southside got really disrespectful and said he is going piss on the grave of his mom. This is where it started to look like Young Chop was going to start crying.
Both Southside and Young Chop made serious threats towards each other in this video, let's hope it never escalates any further.
Author: JordanThrilla