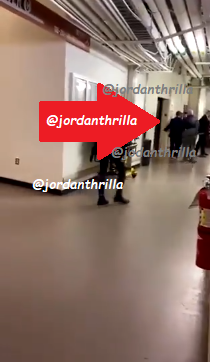 Spike Lee Gets Banned from Knicks Arena and is Denied Entry into MSG in Viral Video.

Spike Lee was denied entry to Madison Square Garden as he screamed "No one told me" in a new video. Rumors are saying that Spike Lee has been banned from Knicks Arena by James Dolan, similar to how Charles Oakley was banned.

Details on what Spike Lee did to be denied entry are still up in the air, but perhaps he became so frustrated with Knicks season he said some disrespectful remarks to James Dolan.
James Dolan usually handled disrespect by simply banning the person from attending future Knicks game.
Spike Lee has been a fixture at Knicks games for many years. Many people see him as part of Knicks history due to him being court side at almost every Knicks home game since he was young.
His time attending Knicks game may have finally come to an end.
Author: JordanThrilla