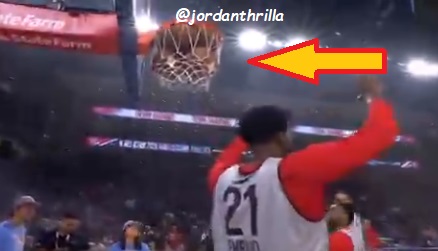 Team Giannis Tries To Build a Tower of Basketballs In the Hoop To Stop Them From Having To Practice at NBA All Star Weekend 2020.

Team Giannis really didn't want to practice at All Star weekend so they started trying to stack basketballs in a tower starting inside the basketball rim, to prevent practice from happening.

They started the project by getting a bunch of balls caught in the basket to form the base. The next step would take incredible skill as they started stacking the balls by doing layups with a feathery soft touch.
As you can see it wasn't working out too well for them, but their persistence showed as they kept trying the task intently.
It effectively stopped their practice, allowing to pass time doing something a bit more interesting, in this case building a tower of basketballs from the hoop, which had never been done before.
As fans, what we should really hope is that they bring this same level of persistence and focus to the All Star game. That would be sure to make the game competitive this year.
Author: JordanThrilla