South Africa Starts the "Coronavirus Challenge" on Twitter.

When the first victim of coronavirus was announced in South Africa, people expected panic. Instead South Africa created the Twitter "Coronavirus Challenge" to joke about the pandemic, showing they aren't afraid of the virus at all.
The challenge was mostly people wearing ridiculous contraptions on their face, to make light of the urge to buy face masks. Other tweets in the Coronavirus Challenge where people breaking their own rules by touching their face, right after instructing people to refrain touching their mouths.
Here where some of the funniest moments of the

#CoronaVirusChallenge on Twitter.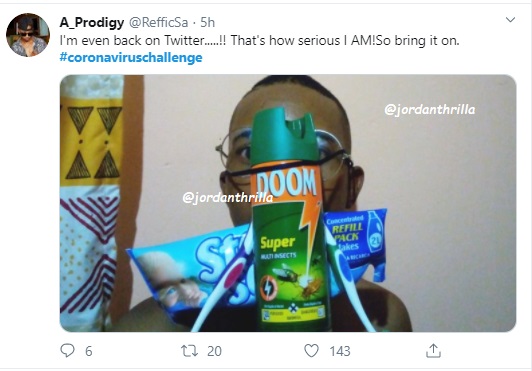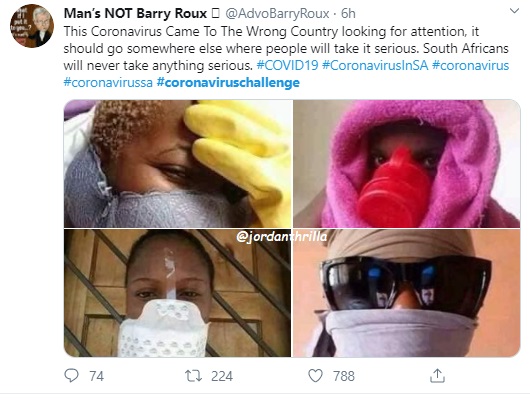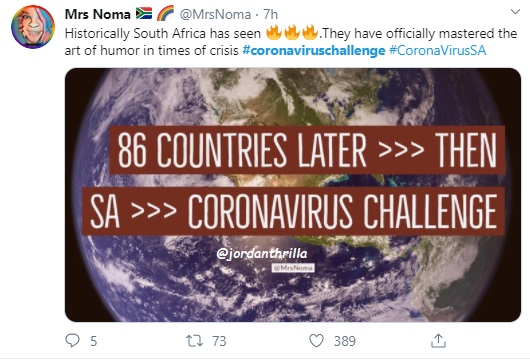 At time where most of the news about the virus is negative, the "Coronavirus Challenge" brings of a bit of comic relief to a sad situation on social media.
The good thing about this challenge, is that is still promotes making sure to protect yourself taking various measures to keep clean, reducing chances of being infected by the coronavirus.
Judging by the responses on social media, people in South Africa are proud they were the first to create a Coronavirus Challenge for Twitter.
Author: JordanThrilla