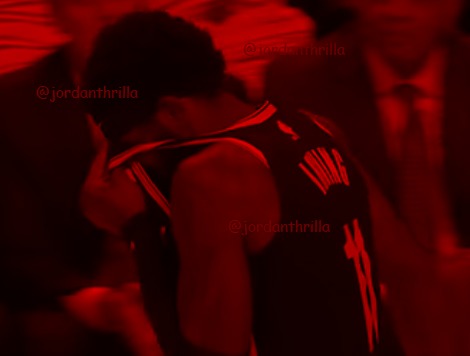 "The Kyrie" Irving Effect Goes Viral on Twitter After Nets Fire Coach Kenny Atkinson.

"The Kyrie" is a phrase that alludes to the Kyrie Irving effect of him being a bona fide team cancer to NBA teams. When Nets Coach Kenny Atkinson was fired this morning, fans immediately start tweeting that Kyrie had destroyed another franchise, after laying waste to the Celtics last season.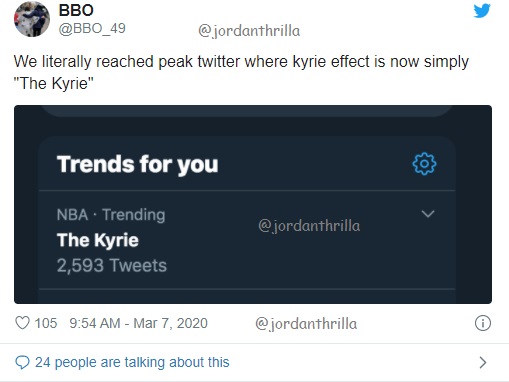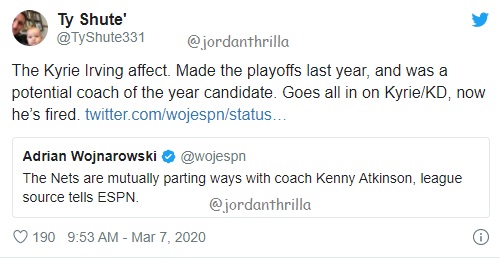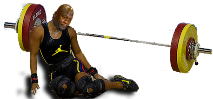 "The Kyrie" trending worldwide is no sick joke. The Kyrie Irving Effect is almost as powerful as the Drake curse. Celtics went from being in the ECF, to being a second round exit. Now Nets who were on the uprising, and their coach Kenny Atkinson who was a potential coach of the year candidate last season, have both been destroyed by "The Kyrie".
We wrote an article before the season that warned Nets fans about what this Kyrie Irving era would be like, it turns out we were completely right. You can read that article here.
Pray for the Nets franchise as they battle the effect of "The Kyrie".
Author: JordanThrilla