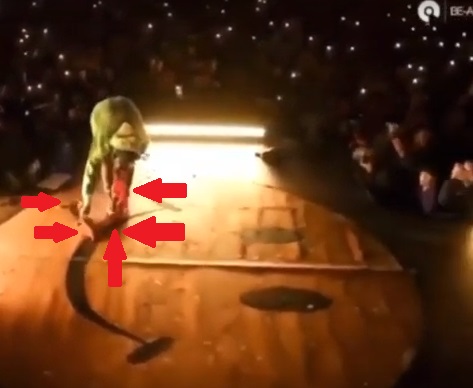 The Real Truth and Reason Why ASAP Rocky $ex Tape was Leaked Revealed.
ASAP Rocky went viral yesterday after a $ex tape leaked online with him in it. Many people were left wondering how it leaked. The reason why A$AP Rocky $ex Tape leaked, may actually be found in an incident that happened at a concert just last week. Take a look at the video below.
At the concert ASAP Rocky got extremely angry after male fans started throwing their boxers at him on stage. For a rapper this was one of the most embarrassing things that could happen, and it may have had A$AP Rocky questioning whether his fans and the world thought he was gay. It was the first time ever a rapper got boxers thrown at them during a concert.
This incident may have lead ASAP Rocky to come up with a plan to prove to the world he wasn't gay. The easiest way to do that, would be to let the world see him having $ex with a female on camera. The only way he could do that would be to have a $ex tape with him in it "leak".
Not only would it prove to his fans he wasn't gay, it would also give him a lot of publicity. The old saying is all press is good press, even if it's bad press. This may have been how the $ex tape was leaked. It may have been ASAP Rocky, or someone on his media team leaking it on purpose, to quiet down the rumors about his $exuality.
There is always the chance that it was just leaked by someone else, but the timing with the boxers incident from his concert seems to coincide perfectly with the "leaked" $ex tape.