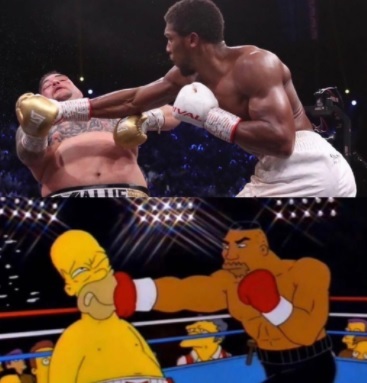 The Simpsons Predicted the Anthony Joshua vs Andy Ruiz Boxing Fight Rematch in 1996 Episode 3 "Homer they Fall" from Season 8.

Simpsons predicted the Andy Ruiz vs Anthony Joshua fight in the "Homer They Fall' Episode 3 Season 8, originally aired in 1996, before it ever happened. In 1996 "Homer they Fall" was released during Simpsons Season 8. It was the third episode where Homer Simpson who is fat like Andy Ruiz, fights a ripped muscular boxer like Anthony Joshua.
This wouldn't be the first time Simpson made predictions. They have predicted Trump becoming president, Toys R' Us closing, and Canada legalizing marijuana among other things. We can now add Anthony Joshua and Andy Ruiz's fight to the list.
If you missed the Andy Ruiz vs Anthony Joshua rematch, take a look at a clip from the Simpson "Homer they Fall" episode, this is pretty much how the fight went d the boxers look the same.
Authoer: JordanThrilla