Three 6 Mafia Sued By Memphis Rappers Accusing them of Copyright Infringement on 150 songs.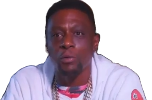 Memphis rappers sued Three 6 Mafia for copyright infringement on 150 songs they claim was stolen from them. They accusations date back to 1993.
Some of the rappers suing them include DJ Zirk, Lil Ced, Kingpin Skinny Pimp, and MC Mack. They all share complaints of wanting all money owed for royalties that should of been made.

New reports say that Lil Ced mentioned the song above called "Koopsta Knicca". Memphis news reports say people around him where telling him for years that he should sue Three 6 Mafia because his voice was sampled on the song.
The old saying goes "better late then never", so it was bound to happen eventually that they try and sue. Three 6 Mafia is going to have a tough time battling these allegations, but they have the money to get the best lawyers money can buy.
Author: JordanThrilla