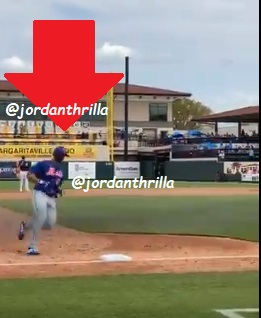 Tim Tebow Hits First Home Run of His MLB Baseball Career at Mets Big League Camp.

Tim Tebow is a baseball player now, and he finally hit a home run at big league camp for Mets.

Tim Tebow had been playing badly, so when he rang in the home run it instantly went viral. Tim Tebow has been a man of many hats during his career. He was an NFL Quarterback, then a news anchor, and now professional baseball player.
Some people use to call him the man with the golden arm during his football days. His throw looked so awkward, yet a lot of times still managed to reach their target. He had a legendary run of games during his time with Denver.
Now he is applying that golden arm to the Baseball field, and hitting home runs with ease. Barry Bonds watch out, Tim Tebow has arrived.
Author: JordanThrilla