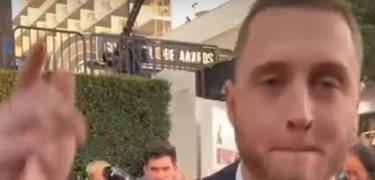 Tom Hanks Son Chet Hanks Mocks Drake with Fake Patios Accent at Golden Globes. Chet Hanks disses Drake's fake patios accent.

Tom Hanks son Chet Hanks took shots at Drake's infamous fake Patios accent. In a new viral video, Tom Hanks son is seen mocking Drake's fake patios accent. It is the fake accent Drake uses in a lot of recent music to sound like some from the islands. It was clear diss aimed at Drake.
These days Drake has moved on from the fake patios accent, and is now using a fake UK accent. However, people including Chet Hanks will never forget the Patios Drake era.
Many people are left wondering if Chet Hanks will be seen on video mocking Drake's fake UK accent next. The world be will watching and waiting. As for now, we know Chet Hank's has a better fake patios accent than Drake.