Tony Yayo Rants About Trav Showing Disloyalty Towards 50 Cent and Lloyd Banks, and "Unclean Spirits".
Tony Yayo finally speaks about Trav's disloyalty to 50 cent in a new lengthy Instagram Post. Tony Yayo even delved deeper into incidents regarding Lloyd Banks, and other people in the G Unit past.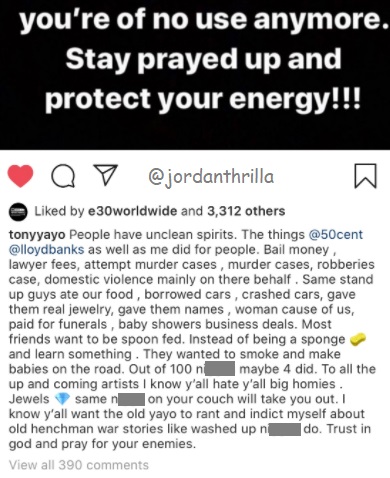 The theme of his rant of "unclean spirits", and people being ungrateful. He mentioned sharing food and cars with the same people that seem to turn on 50 cent. He says people want to "Spoon Fed", which seems like a direct shot at Trav exposing 50 cent for allegedly not helping his family.
The beef between Trav and 50 cent, just got deeper thanks to Tony Yayo.
Author: JordanThrilla