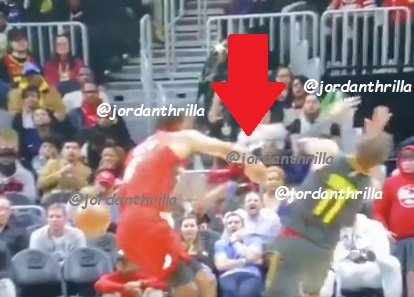 Trevor Ariza Tries To Knock Out Trae Young After He Gets Nutmegged by Him Again,

Trevor Ariza got nutmegged by Trae Young. During Hawks vs Blazers, Trevor Ariza tried to fight Trae Young after he was able to nutmeg him again.
Trevor Ariza became irate and tried to knock him out with body check screen after the ball went through his legs.

Getting nutmegged in basketball is a very disrespectful move. A move you use when you really want to make a defender feel silly.
Tall players like Trevor Ariza are susceptible to this move because of high center of gravity, which could make it even more likely to happen.
Trae Young like to exploits this, and shook Trevor Ariza to point where he felt his ego was being tested. Then you have a dangerous moment like that happening where he bangs directly into him with force out of frustration.
Luckily no players where seriously injured on that. Trevor Ariza needs to play better defense and the nutmeg probably doesn't happen.
Author: JordanThrilla