Unhappy Drake Posts First Picture of His Son Adonis, After Pusha T's "Story of Adidon" Diss Track Told Him To a Year Ago.
Drake finally posted the first pictures of his son Adonis, but Drake's angry face in the photo tells the whole story. Pusha T told Drake on his diss track to "love that baby, respect that girl, forget she's a p***star, let her be your world, yuugh". It seems Drake finally caved in a took Pusha T, and posted the first pictures of him with his son Adonis one year later.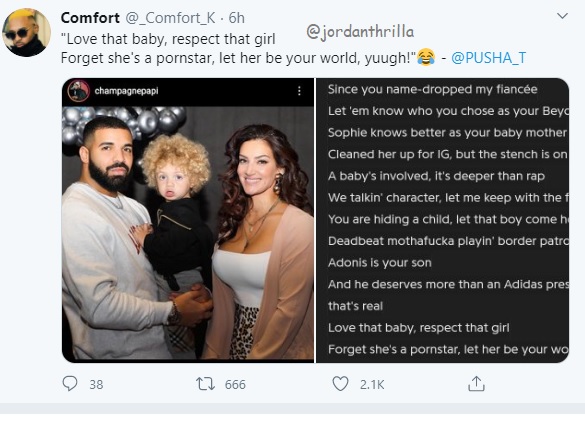 The look in Drake's eyes pretty much let's you know, that everything Pusha T said is still likely eating him up on the inside. In a sense he was basically forced into revealing his son to the world because of the Pusha T diss track.
For awhile Sophie used to be on social media dissing Drake for being a dead beat father, but it looks like Pusha T changed everything for the better of Drake's son. You could possibly say "Story of Adidon" is the most powerful diss track ever. It changed Drake and his sons life.
Author: JordanThrilla