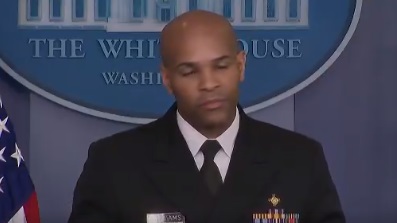 People think US Surgeon General Jerome Adams just went on a racist condescending rant telling black people, Latinos, and all people of color to avoid drugs, tobacco, and Alcohol. Jerome Adams also used words like "big momma", "pop pop", mocking urban dialect.
This comes after Jerome Adams himself previously stated that there were no correlations related to the behaviors of black people and a steady increase of coronavirus deaths among minorities.
On the surface the message is a good one that people should follow regardless of race. However, the condescending racial rhetoric ingrained in Jerome Adams speech is rubbing a lot of people the wrong way, and sounds borderline subliminally racist. It made it even worst when US Surgeon Jerome Adams used words like "big mama" and "pop pop", in a mocking fashion during his speech.
A lot of people on social media are agreeing in saying Jerome Adams could of relayed his message of avoiding drugs, tobacco, and alcohol without calling out black people, Latino, and other people with negative generalizations and stereotypical language.
Author: JordanThrilla