Video footage has surfaced of Dwyane Wade's son Zion talking about liking women in bikinis by a swimming pool at 8 years old. The video from about 4 years ago shows

Dwyane Wade's son talking about being attracted to ladies wearing bikinis by a swimming pool. Dwyane Wade son who is now his transgender Daughter Zaya says "you see those ladies over there". Wade then laughs and replies "you always talking about the ladies".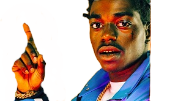 Zion has the classic look of a man scoping out some ladies he finds attractive during a sunny day the swimming pool or beach. It doesn't seem like something a kid who was confused about their gender would do.
The videos have fans wondering what drastically changed within 4 years, that made Zion become Zaya. Fans of Dwyane Wade have many theories.
One theory is that Zion wasn't living his truth at the time, and was putting on a front because he thought he had to.
Another Theory fans have, is that Gabrielle Union had a strong influence on him within the past 4 years that may have caused his personality and mental state to change. If you remember, awhile back Dwyane Wade's ex wife file a lawsuit against Gabrielle Union.
This new video is interesting to see, and answers the questions fans had about what Zion was like before he changed genders to become Dwyane Wade's oldest daughter.
Author: JordanThrilla