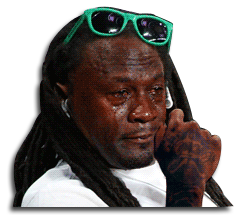 Wow, this one was tough to listen to. As if Demarcus Cousins didn't have enough problems already, now it looks like he might have gotten himself into a serious legal situation. TMZ leaked a cellphone call recorded by his Baby Mama, and ex girlfriend, in which you can hear Demarcus Cousins threatening his baby mama.
Demarcus Cousins begs her to let his son come to a wedding. Then you can hear her coldly say he won't be coming. This triggers Demarcus Cousins to foolishly make a serious threat over phone while being recorded.
My theory is that he might not of actually meant what he said, and was just speaking out of anger. At least I am hoping my theory is true. Demarcus Cousins has been through a lot, so we also don't know the state of his mental health at the moment. He has torn his achilles, tore his thigh muscle, and tore his acl all in the same leg, all in the same year. Now he has to add this to his list of problems too. Stay strong Demarcus, and stay smart. It's never smart to threaten anyone this way.