A video of Ayleks giving top on Instagram Live has leaked. Ayleks was seen giving a random guy top on IG live, and the video has went viral. Ayleks is the ex girlfriend of Trippie Redd. Fans are surprised that Ayleks would give somebody top like this on Instagram live.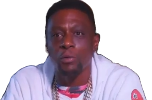 The person who Ayleks is giving neck to in the video is not known, it could be anybody.
Trippie Redd hasn't commented on the video yet, but something like this happening could explain why he broke up with Ayleks.
Author: JordanThrilla