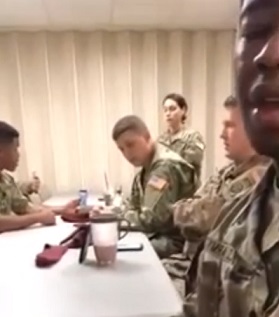 Video of US Soldiers Singing "Amazing Grace" After Iran Missile Attack on US Troops at Al Asad Airbase, leaks. US Soldiers Sing "Amazing Grace" Before Heading To War against Iran after missile attacks in Iraq.

A video has surfaced of US Soldiers singing "Amazing Grace" song, knowing World War 3 may have just started after Iran attacked their airbase in Iraq. The soldiers were reportedly singing the song to prepare for the war that had just officially began.
Footage of the Iran attack on the US airbase can be seen here.
The soldiers sing with passion, and you can hear all emotions running through the minds during this tough time. It's good to see they are in good spirits, with the daunting path the lies ahead.