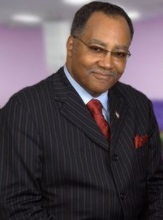 Virginia Pastor Dies from Covid-19 After Testifying that "God is Larger than this Virus".
A pastor named Bishop Gerald Glenn has died from coronavirus after proclaiming that God was larger than the corona virus, during one of his church service programs at a time when people where instructed to be social distancing.
According to reports before he tested positive for coronavirus, he held the service at New Deliverance Evangelestic Church located in Virginia.

Reports say the Virginia Pastor was suffering from a preexisting health condition called diverticulitis which irritates the intestines. People with this condition often have recurring fevers.
His family members realized this time was different, when he needed to be taken to the hospital to put on a ventilator. Unfortunately he didn't make it. News of a Virginia Pastor dying of Covid-19 is not something you expected to hear during this pandemic.
RIP Bishpp Gerald Glenn, and pray for his family through this tough time.
Author: JordanThrilla