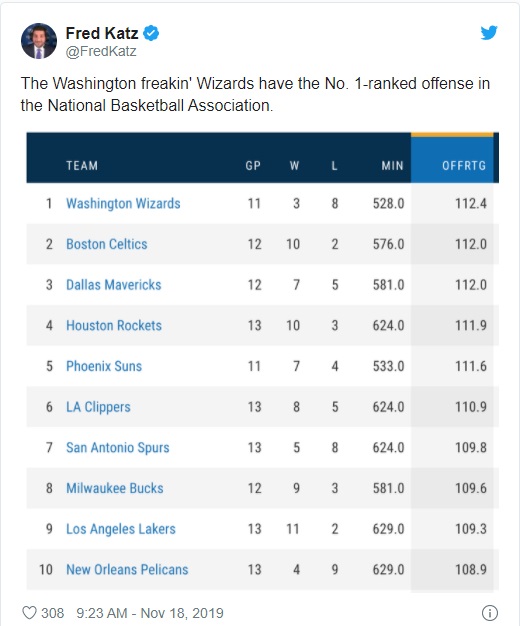 Washington Wizards Literally Have the Best #1 Ranked Offense in NBA, but also the 3rd Worst Record at 3-8.

Something strange is going on, but maybe it isn't so strange. On the current team offensive ratings list, Wizards are number one at 112.4. That puts them ahead of teams such as Lakers, Celtics, Bucks, and Rockets. However, they have a 3-8 record which is the third worst in the NBA this season.
So the question you start asking yourself is, how is this possible? The answer is pretty simple. The Wizards are just inconsistent at everything else. They're bad defensively, undersized at the center position, and make low IQ mistakes during games that cause them to lose winnable games. There's an old saying that goes "defense wins championships". It is said because great offense can only get you so far in the NBA. That holds true strongly in this case.
The bright side is, Wizards know their offense isn't the problem. If they can focus on their rebounding issues and put in more effort on defense, who knows maybe that offense can sneak them into the 8th seed.