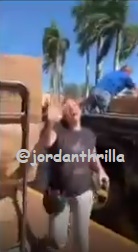 Woman Buys Every Single Box of Tissue from Dollar Tree and Screams "Go Donald Trump" in Viral Video.
A woman bought every single paper product from a local Dollar Tree, including paper towels, toilet paper, and napkins. As the woman stacks the boxes of paper products in her truck, she screams "Go Donald Trump". This made it impossible for other customers to buy any paper products from the store.

Most stores have set in place limits to prevent hoarding like this from happening, they usually say something like "3 paper products per customer". However, some stores like this Dollar Tree could seem to care less how much one individual purchases as long as they get their sale.
The woman buying every single roll of tissue, just shows how greedy some people can be, in a state of panic. However, she could just be buying all the paper products to make some kind point.
Interestingly enough, Donald Trump has publicly told people to stop "buying so much" from stores in response to the hoarding that was taking place.It is strange to see the woman shouting "Go Donald Trump" after hoarding, unless she was actually buying all paper products from the Dollar General to prove point.
Author: JordanThrilla