Woman Gets Worst Hairstyle Ever in Honor of Kobe Bryant at Bronner Brothers Hair Show.

A woman got a strange hair style tribute in honor of Kobe Bryant's death and has gone viral because of how bad it looks. In the hairstyle, Kobe Bryant looks like he is wearing a ballerina outfit and looks nothing like himself.
The video below of the hairstyle is simply shocking.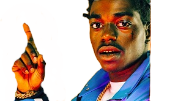 It's really a tribute where you have to ask yourself is this disrespectful? A lot of people on social media think the hair tribute is so bad that it is almost disrespectful.
The creativity is definitely through the roof, but the result is very lackluster and should of shelved midway through the hairdo according to some on social media.
There have been many creative and unique tributes such as an artist drawing picture of Kobe Bryant with his backboard, but this hairdo is one that people are going to want to forget.
If Kobe Bryant was still here with us, he would probably get a good laugh out of this.
Author: JordanThrilla