A Woman's soccer player did the Allen Iverson step over Tyronn Lue, over a player she viciously knocked down during the game to disrespect her existence. It's clear she's an Iverson fan, because she did the step-over to pristine perfection. It is one of the most infamous and iconic moments in NBA history. Tyronn Lue probably still has nightmares, and sweats in his sleep because of the moment.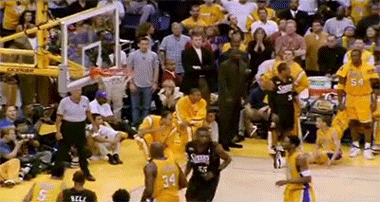 Now the Allen Iverson is the standard sign of disrespect in the NBA. When a player steps over you, it is the ultimate sign they have zero respect for you in that moment time. Remember when Draymond Green got suspended for Game 6 of the finals? That happened because Lebron James did the Allen Iverson step over on him, and he couldn't hold in the anger from the disrespect. That's how serious the Iverson step-over is.
Naturally the referee blew the whistle after he saw what she did. He gave her a verbal warning and the game went on. The moment lives on forever however, with social media taking it for a viral spin.
Author: JordanThrilla