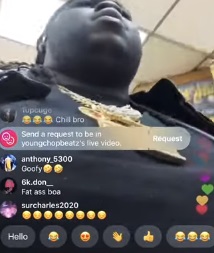 Young Chop Disses 21 Savage While Driving Around His City Atlanta.
Young Chop is not afraid of 21 Savage. In a viral video Young Chop called out 21 Savage while walking around in his own city. It was a clear sign of disrespect. Young Chop was likely dissing 21 Savage's status in the Atlanta community.

Young Chop seems to be trying to say no one is scared of 21 Savage. That has been a running joke since it was revealed he is actually from the UK.
21 Savage was deported, but came back to the USA and didn't seem to miss a beat. It will be interesting to see if he responds to Young Chop, or ignores him and keeps it moving.
Young Chop vs 21 Savage beef is now seemingly official.
Author: JordanThrilla