Young Chop has 24 hours to leave the city of Atlanta because of all his disrespectful comments. Young Chop responds to the 24 hour threat saying "Pull Up". In the video a man tells Young Chop he has 24 hrs to get out the city of Atlanta.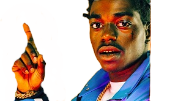 From the looks of things it seems Young Chop isn't rattled by the 24 hours to leave Atlanta threat. His response seems to be keeping his disrespectful dissing spree going.
Hopefully this ends peacefully, and cooler heads eventually prevail.
Author: JordanThrilla