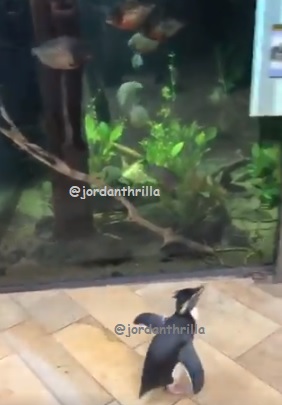 Zookeepers Let Penguins Roam Around Empty Zoos Shut Down Because of Coronavirus In Viral Video.
Zoos around the world are shut down from humans because of Coronavirus, but the animals still living in them have an unprecedented opportunity. A new video showed a Zookeeper allowing a penguin to walk around a zoo, and view all the exhibits just like a human. With no people around because of the coronavirus, the penguin had the zoo all to himself.

The penguin looks around amazement at all the wonders of the zoo he had never seen. The fish in particular seemed to interest the penguin the most.
The coronavirus allowed this penguin to experience something he probably will never get to again. Similar to how the water in Venice Italy is currently clear for first time ever because of coronavirus, but probably will never be again after this is over.
This penguins will remember the coronavirus, as the time he got to visit the zoo like a human being, the only thing he was missing was his penguin date.
Maybe one day, this penguin will be able to wander around the zoo, even when the coronavirus isn't an issue anymore. It's clear the Penguin has been waiting for the moment he would be able to do that.
Author: JordanThrilla