Ice Cube, the legendary rapper and actor, has recently faced some backlash on Twitter for his role in the influential hip hop group N.W.A., which is widely credited with popularizing gangsta rap in the late 1980s and early 1990s.
Are Ice Cube and N.W.A. Responsible for the Alleged Downfall of the Black Community?
Some Twitter users accused N.W.A. of being part of an agenda to destroy conscious rap, which was growing in popularity at the time, and promote promiscuity, violence, and gangster behavior among the youth. They also blamed N.W.A. for contributing to the downfall of the black community by glorifying drugs, crime, and misogyny.
However, Ice Cube did not stay silent and defended his group's legacy and artistic expression. He responded to some of the critics on Twitter, and explained that N.W.A. was not responsible for creating or spreading the social problems that plagued the black and Latino communities long before gangsta rap emerged.
He argued that N.W.A. was simply reflecting the harsh realities of their environment, and giving voice to the oppressed and marginalized people who were ignored by the mainstream media and society.
Ice Cube also pointed out that N.W.A. started as an underground rap group that had no expectations to ever be a commercial success. He said that it was the media's fault for choosing to promote gangster rap over other genres and turning N.W.A. into a mainstream juggernaut. He claimed that N.W.A. had no control over how their music was marketed or consumed by the masses.
Furthermore, Ice Cube challenged the notion that N.W.A. was part of an agenda to destroy conscious rap, which he defined as "rap that makes you think". Many people believe that N.W.A.'s music was also conscious and thought-provoking, as it exposed the injustices and corruption of the system and inspired social change and activism. For example some of N.W.A.'s songs that addressed topics such as police brutality, racism, poverty, and self-empowerment.
However, Ice Cube did admit that music does have an influence on corrupting youth. It should be noted that other factors such as parents, teachers, mentors, and role models also play a vital role in shaping the values and morals of young people. Therefore it's really up to parents to educate their children about the difference between entertainment and reality, and to guide them towards positive choices and opportunities.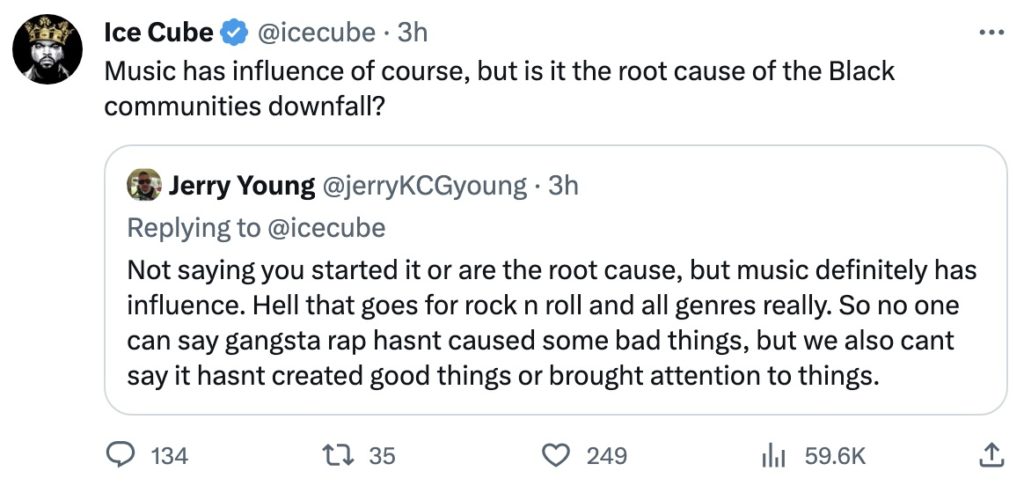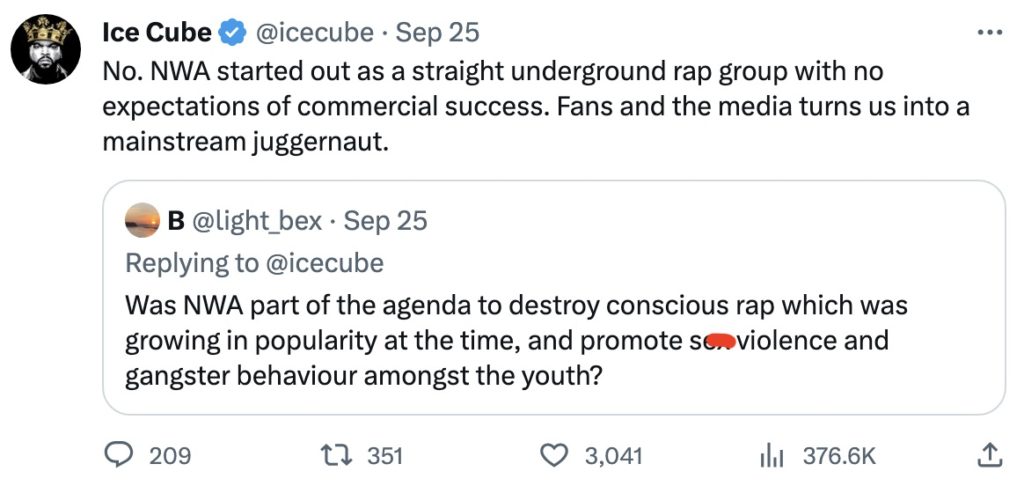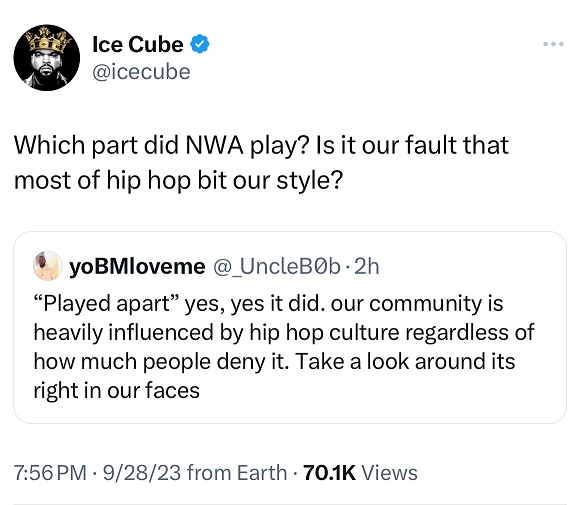 Ice Cube's responses to the viral Twitter thread have sparked a lot of reactions from fans and fellow artists, who have expressed their support or disagreement with his views. Some have praised him for standing up for his artistic integrity and legacy, while others have criticized him for being defensive and hypocritical.
The debate over N.W.A.'s impact on hip hop and black culture continues to rage on social media and beyond.