Nicki Minaj is not backing down from her alleged feud with Cardi B and Offset. The rapper took to Twitter, to post a cryptic message that many people believe is diss Offset. However, there is a bit of confusion around what exactly she is referring to in her tweets, but she gave some hints that could answer that question.
Did Nicki Minaj Diss Offset By Clowning His New Single Paying Tribute to Michael Jackson Flopping?
In one tweet Minaj said, "Same stale old tea? I like mine hot. Couldn't gag the live huh?" and included a picture of Michael Jackson drinking tea.
In another tweet, she wrote, "After all dat chi" and added a bubble emoji. Fans speculated that Minaj was mocking Offset's song "Fan", which failed to chart on the Billboard Hot 100 despite being released over two weeks ago. The song's music video pays tribute to Michael Jackson's iconic "Thriller" video, featuring Offset and his dancers in zombie costumes.
Minaj's tweets came after a video of her husband, Kenneth Petty, surfaced online, in which he appears to be threatening Offset outside of a hotel where he and Cardi B were staying. Petty is currently on house arrest for violating his parole by making the remarks while in the company of someone with a criminal record.
Nicki Minaj posted a controversial video on Instagram in a room full of her goons, after Jason Lee posted a video accusing her of engaging in RICO activity.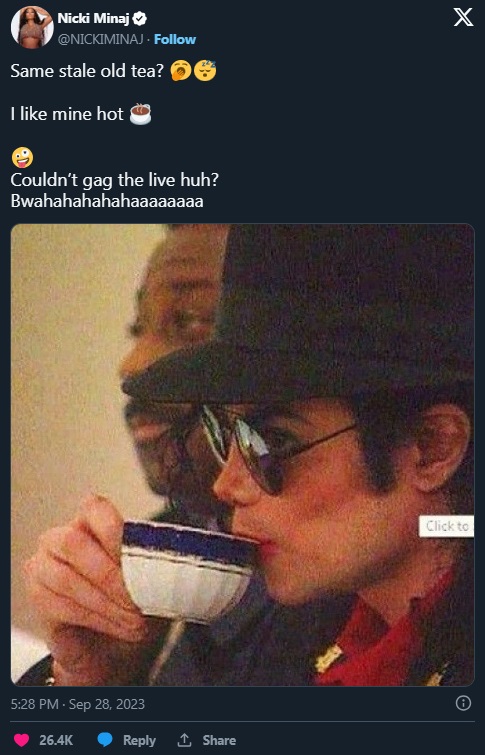 Nicki Minaj's tweets are likely clowning Offset's 'FAN' single flopping despite all the theatrics paying homage to Michael Jackson.
Neither Cardi B nor Offset have directly responded to Minaj's tweets or Petty's threats. The two rappers have been involved in a long-standing rivalry since 2017, when they reportedly clashed over a verse on Migos' song "MotorSport".
The feud escalated in 2018, when Cardi B threw a shoe at Minaj during a New York Fashion Week event. Since then, the two have exchanged several insults, and accusations on social media and in interviews.