Is Joe Budden gay? After a recent episode of his Podcast people have now dubbed him Joe Bi-den. On the episode in question he made a statement that has people convinced that Joe Budden came out the closet as bisexual.
Did Did Joe Budden Reveal He was Bisexual?
During a segment of his podcast it seemingly revealed that Joe Budden likes men and women. In his own words Joe Budden said,
"I'm bisexual, how do I spread the word? I like guys and girls, I'm down."
Take a look at the video of how Joe Budden came out the closet.
Azealia Banks Reacts to Joe Budden Coming out as Bisexual
On social media many people weren't surprised at the possibility Joe Budden is gay or bisexual. Celebrities like Azealia Banks reacted to Joe Budden coming out the closet insinuating she already knew he was in the closet. In her full statement Azealia Banks said,
"Joe Budden came out the closet two months before 2022 to try and spite me. He was supposed to stay in that closet until that ball dropped. Let's put him back in the closet until January 5th. There will be no coming out until top of Q1. Not on my watch LMAO."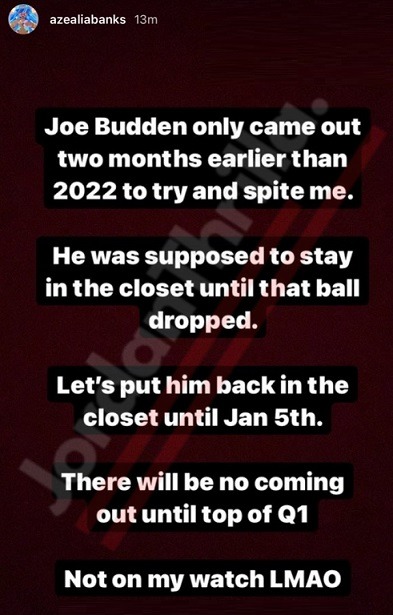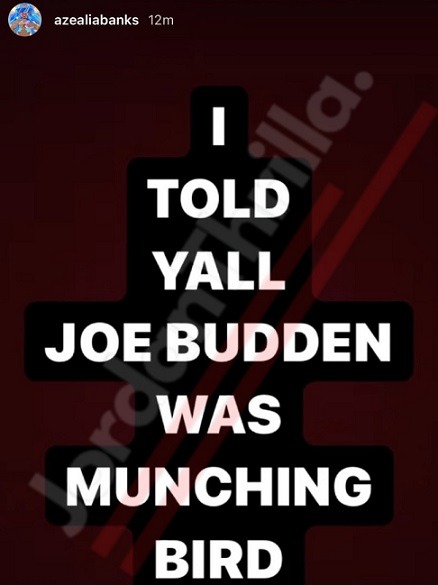 Once Upon a Time Joe Budden Talked About Pleasuring His Dog
With the news of Joe Budden alleged preferences trending, one incident people began to remember was the infamous episode where he made a strange comment about his pet dog. On that episode Joe Budden said he liked pleasuring his dog by touching his groin area. In his own word Joe Budden said,
"Why do I always want to make the dog feel good by playing with its privates."
Some people think that was actually the moment people should have guessed Joe Budden is gay or bisexual, if he really is.
Social Media Reacts to Joe Budden Coming out Closet as Bisexual Man by Dubbing Joe Budden Joe Bi-dden
With the news around the Joe Budden ruling headlines, social media was definitely in a frenzy. It was some of the most surprising hip-hop news of the entire year for many people. Naturally there were posts predicting how Lil Boosie's reaction to Joe Budden coming out the closet. What stood out even more were all posts dubbing Joe Budden Joe Bi-den. Change the 'Bu' in his name to 'Bi".
The viral tweet below mentions Joe Budden coming out as bisexual, but also references promises that Joe Biden made to voters, that still haven't been delivered on.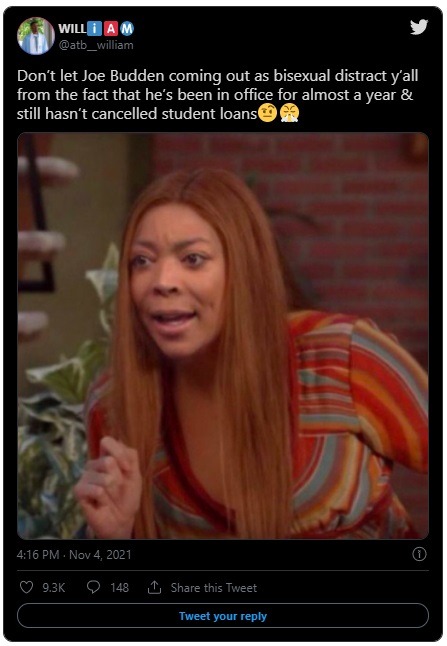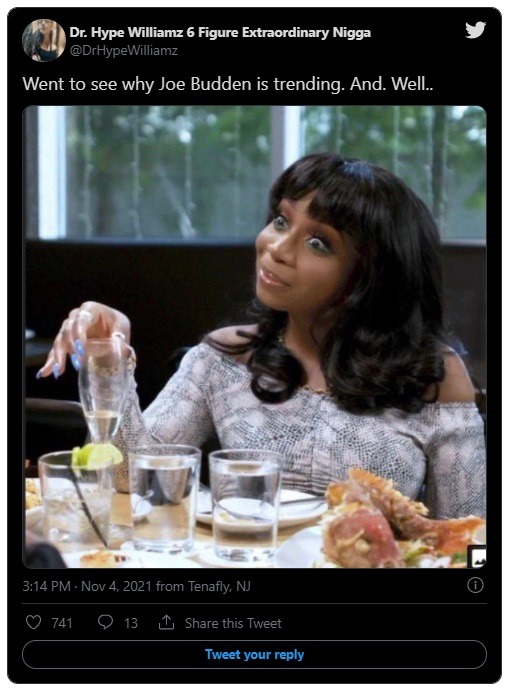 Is Joe Budden Pretending to be Bisexual for Publicity?
In recent weeks there were many stories about Joe Budden's Podcast starting to lose viewership. Rory and Mal's podcast was seemingly doing better numbers in recent weeks. Some people think that Joe Budden is pretending to be bisexual or gay just to regain some momentum for his podcast. If that was his plan then it's definitely working, because he has the internet buzzing.
Who would have guessed that in 2021 Joe Budden would possibly come out the closet.
Author: JordanThrilla Staff