Megan Thee Stallion is trending nationwide, and this time it's in a negative way in regards to the situation with Tory Lanez. As we all know Tory Lanez has maintained his innocence in regards to allegedly shooting Megan Thee Stallion, while she has gone on press runs claiming that he is guilty. The gist of her story is that Tory Lanez got mad, and shot her in the foot. However, there are many holes in her story, and also people like DJ Akademiks have revealed insider information that put into question whether she is telling the truth. Now a police report from the day Megan Thee Stallion got shot has leaked, and it could prove that she lied on Tory Lanez.
Does Leaked Police Report Prove Megan Thee Stallion Stepped on Glass and Lied About Tory Lanez Shooting Her Foot?
Do you remember what the first story the media reported about the Megan Thee Stallion shooting was? It was first stated that she stepped on glass, which caused her foot injury. According to the leaked Tory Lanez shooting police report that's exactly what happened. In fact the medical professional named Dr. Loffredo who treated Megan Thee Stallion's foot injury also claims they were consistent with a laceration caused by glass.
In addition according to the police report there was a witness named Sean Kelly who was looking out his bedroom window at the scene of the shooting before the gunshots went off. He claims that he saw two women fighting near the black Escalade owned by Megan Thee Stallion and Tory Lanez. He also claims he saw a large male and thin male which was probably Tory Lanez, who were not involved in that fight. That section of the police reports seems to be similar to DJ Akademiks' allegation of what really happened that night. Take a look at the leaked police report.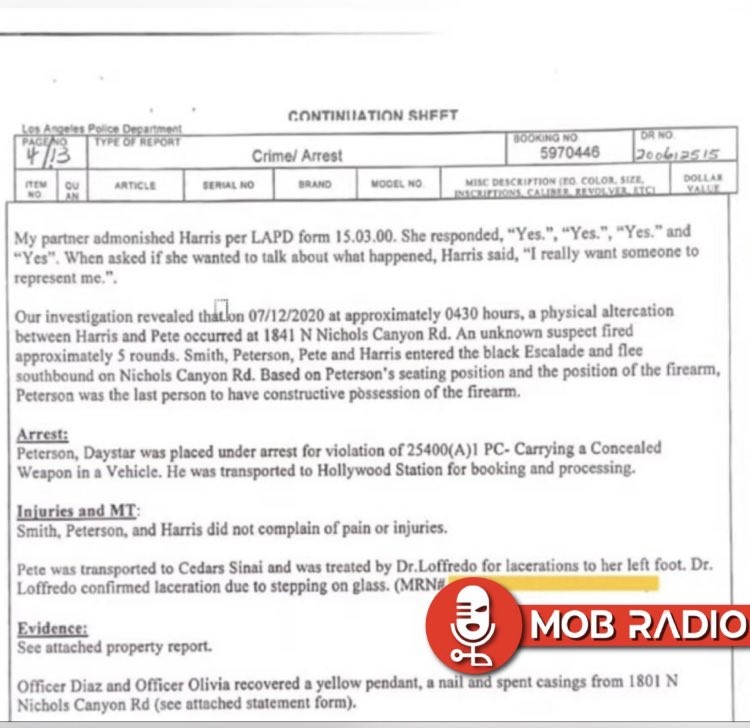 It's probably not right to outright call Megan Thee Stallion a liar, because the court case is still ongoing and she could be telling the truth. However, the more and more evidence the public sees the more it fuels the theory that Tory Lanez is innocent in terms of shooting her.
If Megan Thee Stallion lied on a black man it could end up being a career altering move. The public perception of her would likely never fully recover from that. Likewise if Tory Lanez is found guilty then his career will never recover because of what he did to a black woman. It's a sad situation either way you look at it especially considering the two people involved were once good friends.
Do you think the leaked police report proves Megan Thee Stallion lied about Tory Lanez shooting her? Does the police report confirm Megan Thee Stallion stepped on glass? For reference you can see photos of Megan Thee Stallion's foot wound here.