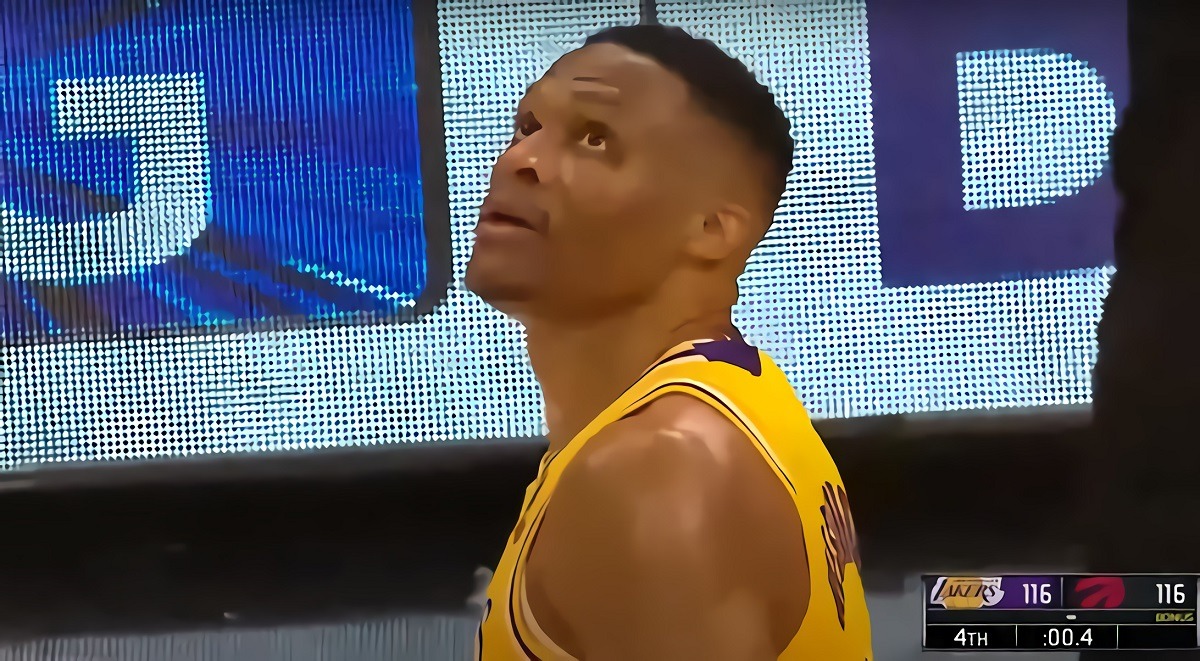 After three straight games of getting run off the court, the Lakers responded with the grit and determination it will take for them to win consistently. Ironically the man who has become the scapegoat when things go bad became the hero of the game, and Drake couldn't believe it.
Drake's Reaction to Russell Westbrook's 3 Point Miracle During Lakers vs Toronto Goes Viral
With a few seconds left to go in regulation Lakers found themselves down by 3 points in Canada after Westbrook bricked a three off the side of the backboard. It looked like it would be another night where Westbrook would be ridiculed on social media for costing Lakers a game. However, in the blink of an eye the dire situation would turn into one of the most important wins of Lakers' woeful season.
As Raptors inbounded the ball Precious Achiuwa was double teamed, which forced him into a bad pass to Scottie Barnes. Unable to properly corral the ball, Russell Westbrook stole the ball then ran up court to make a tough leaning three to tie the game. On slow motion replay it would show that Westbrook seemingly subconsciously was able to position his toe just behind the three point line.
Russell Westbrook Turned Drake into a Meme
Drake's reaction to Russell Westbrook's game tying three said it all in terms of how Raptors fans felt. Brodie really turned into Stephen Curry on them. In the post game interview Russell Westbrook said his wife sent him the picture of Drake's reaction. As you'll see in the photo is definitely has given birth to a Drake meme.
Lakers' win was the first time in many games that Russell Westbrook got a triple double. He finished the night with 22 points, 10 rebounds, and 10 assists. Most importantly he shot 4-7 from three point land, and was great on the defensive end.
This special moment for Westbrook could end up being the turning point of Lakers' season. Can they finish out on a win streak, and carry that momentum to the playoffs?