Recently many rappers have been in the news for the extreme dental predicaments they have been. Glorilla's teeth went viral before she got them fixed, Young Thug's teeth before the fame were trending a few weeks ago, Moneybagg Yo had veneers put in some years ago, and now Soulja Boy has entered the chat.
Soulja Boy's Rotten Teeth Go Viral After Dentist Trip to Get Veneers
Similar to Young Thug's teeth, Soulja Boy's teeth were also rotten before he decided to have some fake teeth put in to regain a perfect smile. A viral photo shows Soulja Boy's teeth had tar, bacteria, decay, just about everything possible that could be wrong with them. It almost looked like he hadn't brushed his teeth in years. Many fans were left wondering how could they possibly get that bad?
Based on the photos one of the main culprits that caused Soulja Boy's rotten teeth was smoking blunts. Many people don't realize, but smoking blunts and even vaping can have a detrimental impact on your dental health. Teeth are made of porous material, meaning they have microscopic holes all over of them. Blunt smoke is not only extremely hot, but the tar in it seeps into teeth and can overtime darken and wear them down. Many blunt smokers don't realize this happening, because usually it impacts the back of teeth first. In addition Soulja Boy was probably not brushing and flossing regularly.
Take a look at Soulja Boy's rotten teeth before and after surgery.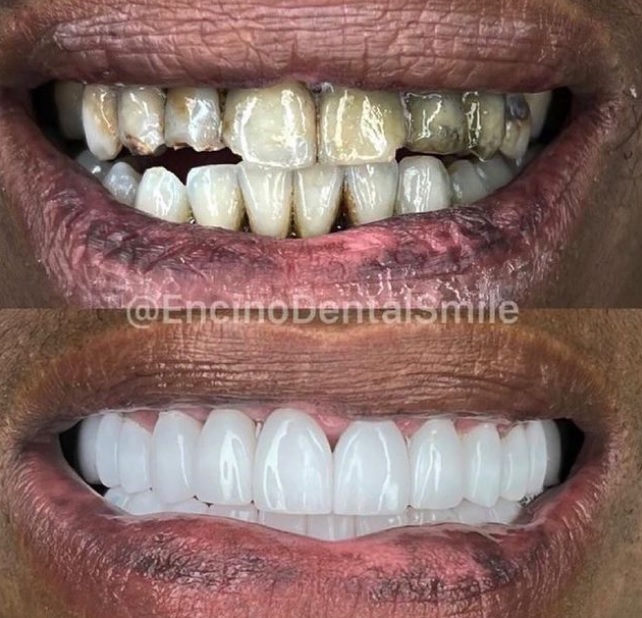 Where Did Soulja Boy Get His Fake Teeth?
Based on reports it appears Soulja Boy's veneers were put in at an Encino Dental office, which is a group of dentists in the California area. Veneers actually just cover teeth, so in reality Soulja Boy's rotten teeth are still in his mouth, but now no one can see them. Veneers usually costs thousands of dollars in the USA, unless you go overseas like Moneybagg Yo did.