It's no secret that DaBaby's career has been on a downward spiral ever since he went on that strange homophobic rant during a concert. Since then his songs have been dropped from many radio stations, most of his shows get cancelled, and his streaming numbers have decreased. Now DaBaby is beefing with OTF Memo 600, and it has a lot to do with the person he decided to release a new album with.
DaBaby Responds to OTF Memo600 with Disrespectful Message on Instagram After Memo 600 Clowns 'Better Than You' First Week Album Sales
Recently DaBaby dropped a joint album with NBA Youngboy titled "Better Than You". Most people thought the album would do numbers, but it's only projected to sell around 35K first week, further cementing how far DaBaby has fallen popularity wise.
According to OTF Memo600, DaBaby was hoping that NBA Youngboy would save his career. However, it actually looks like NBA Youngboy would have done better numbers if he had released another solo album without DaBaby.
To throw salt on open wounds Memo 600 dissed DaBaby with a tweet making fun of "Better Than You" first week album sales. In that tweet he wrote,
"Can't blame DaBaby. He thought that man was going to save his career."
He added a surprised face emoji to further add salt to the message. This tweet really set DaBaby's anger levels off as you will see below.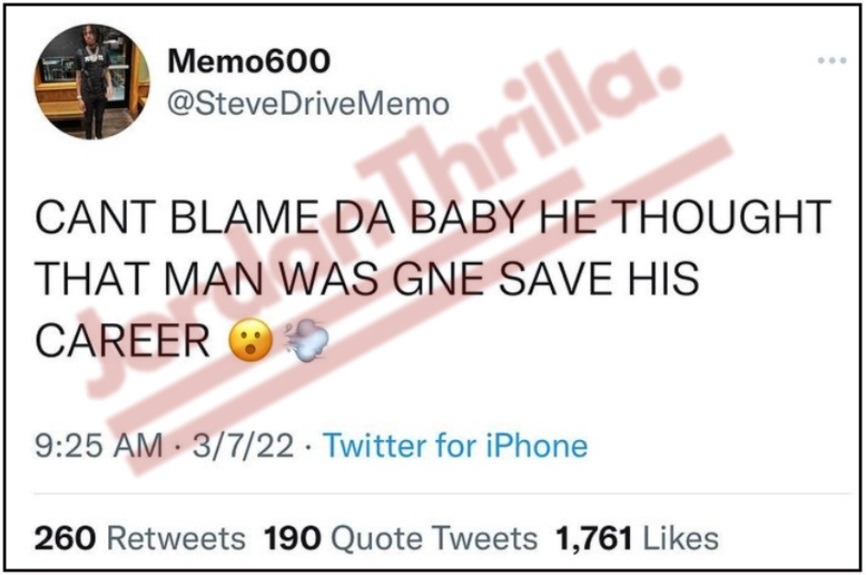 DaBaby responded to OTF Memo 600 basically saying that he doesn't care about street beef when it comes to making money. The most disrespectful part of the lengthy message was when DaBaby called Memo600 a "towel boy" and "mascot", basically saying he's a follower in his crew, and not a leader.
It's clear from the message that DaBaby wants all the smoke from OTF Memo600, and isn't scared about the consequences this beef could bring him.
Hopefully this feud doesn't end with anyone getting hurt.