When it comes to NBA couples Lebron James and his wife Savannah seem like one of the perfect examples of two people remaining faithful to each other through all the fame and success. Lebron has been with his wife since his high school days, and their love still seems as strong as ever. However, a recent video has people convinced that Lebron James is cheating on his wife.
Lebron James' Side Chick Exposed? Video of Lebron Touching a Woman After Lakers Game Sparks Cheating Conspiracy Theory
After a recent Lakers game something strange happened while Lebron was leaving the court. As he was high fiving fans a woman touched Lebron James' arm, and then Lebron touched the woman's arm in response.
Many dating experts will tell you that when a woman touches your arm like that it's a sign that there is some type of relationship going on. It also could mean nothing at all, or that woman is a family friend.
On social media people are convinced that the woman who touched his arm is Lebron James' side chick that he has been keeping secret from the world. It's not often you see Lebron making that kind of contact with a woman on Live TV unless it's his wife or Lakers' owner Jeanie Buss. Could this mean Lebron James is cheating on his wife Savannah? Take a look.
The mischievous smile on her face as the woman caressed Lebron James' arm tells the whole story in many people's opinions. It seemed like they were trying their best not to make direct eye contact since the cameras were rolling. However, again it could all mean nothing and people are just looking too much into it.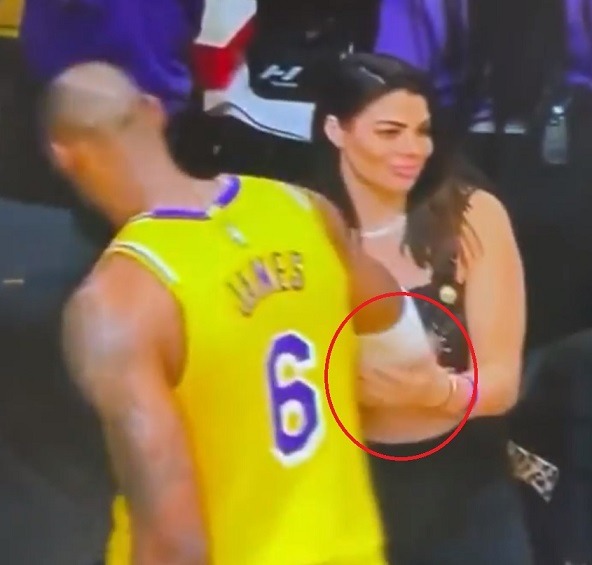 Every time a rumor of Lebron James cheating catches wind on social media it usually seems to involve a white woman who looks similar to lady in the footage above. In that sense you could say this woman might be Lebron James' type in terms of his alleged side chicks.
Hopefully this social media conspiracy theory has no truth to it, and Lebron James isn't cheating on his wife. He is a billionaire NBA player though, so you never know. At the end of the day the basketball GOAT is going to do whatever he wants.