When the Detroit Pistons selected Luka Garza with 52nd pick in the 2021 NBA draft they knew they were getting a skilled big man who could help the team in multiple ways. At 6'11" 243 pounds he's a formidable size in paint from the jump. Nevertheless it was his machine like finesse that really stole the show.
When he attempted his first three it immediately stood out that Luka Garza shoots like the robot from Tokyo Olympics. Everything from the bend of the knees, the elbows almost being in lined up with the top of his shoulders, and the hitch in the shot. All the flaws were recreated in the robot and Luka Garza. Which leaves the million dollar question, is Luka Garza a robot?
For reference here is the robot shooting "jump shots" at Tokyo Olympics. It was actually rather frightening to say the least. Those I-Robot vibes were a little too much.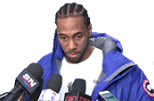 Luka Garza is a great shooter at the center position, which will really help Pistons stretch the floor if he's in the lineup. He's the type of player that helps make a team's floor spacing more fluid, and open for the players that like to attack the basket. The fact that Luka Garza's shooting form is identical to Tokyo Olympics Robot just makes him that much more of must see TV.
Kawhi has some competition for the the most robotic three in the game.
Author: JordanThrilla Staff