He's only 2 inches above the 6 foot mark, but in the NBA he is known as one of the fiercest enforcer type of players. Pat Bev is one of those guys that all time greats like Lebron James mentions when talking about the most gritty players they competed against. Despite being undersized at most positions, Patrick Beverley doesn't back down from anyone, especially when it comes to protecting his teammates.
Why Did Patrick Beverley Knock Down Push DeAndre Ayton into the Crowd?
While Pat Bev was the aggressor in this situation, Ayton was definitely the instigator with the unnecessary motions he made. Austin Reaves got hurt after getting fouled by another Phoenix Suns player. For some reason DeAndre Ayton decided to stand over Reaves while he was on the ground in pain. Like Draymond Green has insinuated many times standing over someone on the basketball court is seen as a severe form of disrespect.
Pat Bev wasn't going to let his transgression slide, and sprang into action like only he can. The 6'2″ Patrick Beverley tried to fight 7′ DeAndre Ayton knocking him into the crowd with hard push that sent him tumbling backgrounds to the ground. Before the situation could escalate further both teams intervened causing a chaotic scene. All in all the moment showed the intangible value Beverley brings to the table with his constant aggression. He lowkey had Ayton shook.
Patrick Beverley got ejected, and Lakers lost the game, but social media thought he was the winner of the night for looking out for his teammate. Some people even called him a "hero".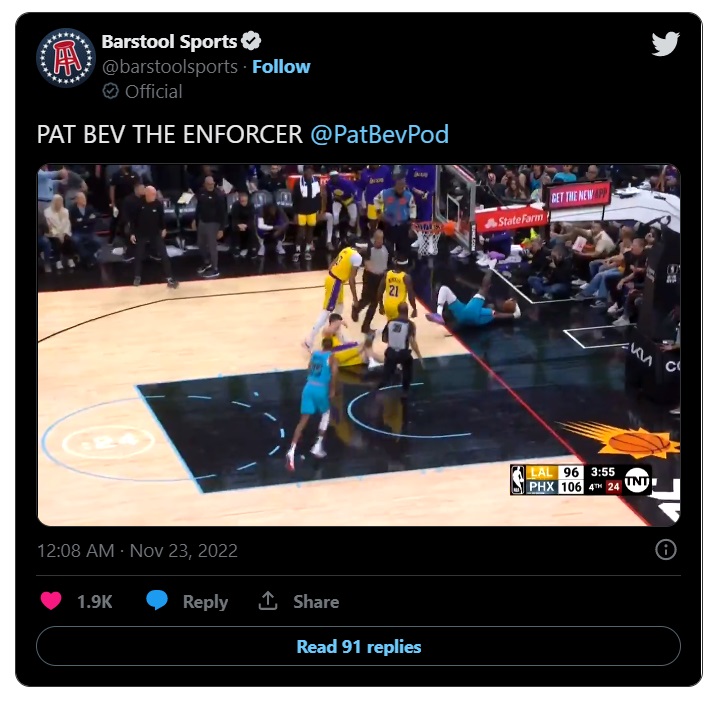 _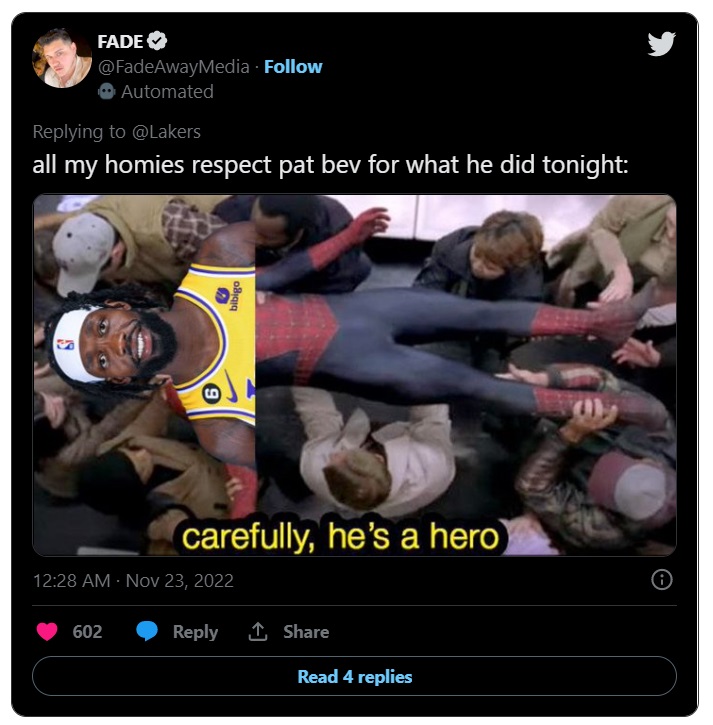 The Inside the NBA crew had some interesting things to say about the fight.
Before their loss tonight Lakers had won 3 straight games, so the optimistic way to look at this would be to realized they are 3-1 in their last 4 games.
Can they regain their steam after this loss? Considering Lebron is returning from his groin injury for their next game things are still looking up for their current trajectory.