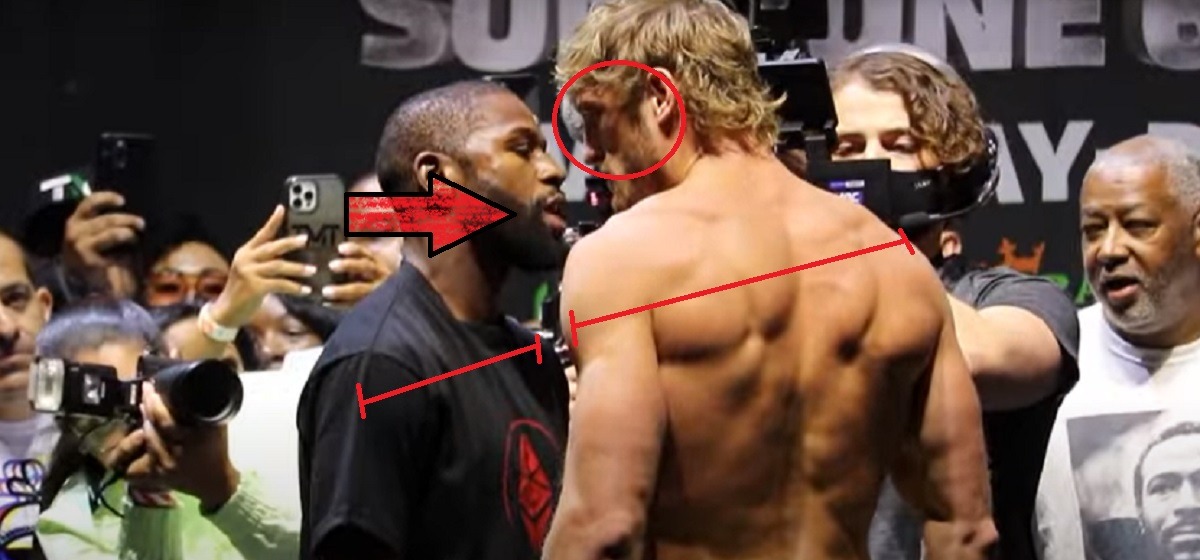 Is Logan Paul scared of Floyd Mayweather? Most people think that Logan Paul isn't nervous around Floyd Mayweather due to their massive size difference. He has over 30+ pounds on him, and stands at around 4 or 5 inches taller. However, an anonymous psychologist revealed to us sure fire signs from their final face off and weigh in that Logan Paul fears Floyd Mayweather much more than meets the eye.
There were very subtle things that only a psychologist would recognize that show Logan Paul is frightened at the thought of getting into the ring with Floyd Mayweather. On the flipside there are also signs that show Floyd is planning to really try hurting him.
Before we reveal what the anonymous psychologist revealed about Logan Paul's face off with Floyd Mayweather, you should take a look at the event again. Skip to the 4 minute mark of the video if you don't want to see the weigh ins, but you should really watch the whole video to get grasp of everything.
The Reasons The Anonymous Psychologist Thinks Logan Paul is Scared of Floyd Mayweather
The first thing that stood out to this anonymous psychologist who wrote us was that Logan Paul has been unable to handle silence in every stare down. It seems he starts to feel uncomfortable then starts talking and smiling while Floyd stays locked in looking deep into his eyes in silence. Logan Paul talking and smiling is his way of trying to reassert of some control in the situation where he's actually frightened on the inside. In fact that's probably the reason Floyd Mayweather was laughing at him after the face was off over, because he too notices that Logan Paul is smiling and talking to hide insecurity.
Second thing you'll notice as that Logan Paul was standing at an angle, rather than facing forward while staring down Floyd Mayweather. That stance is subliminal sign of uncomfortableness, uncertainty, and outright fear. It's almost as if Logan Paul is thinking "what have I gotten myself into" on the inside, while trying to project a façade on the outside. On the flipside it seems like Floyd was thinking "this guy has no idea what he's getting into".
Lastly, Logan Paul laughs and says "oh my god" when they announced Floyd Mayweather's weight of 155 pounds. He then went on to flex his muscles for the crowd. On the surface you would think that was confidence, but in reality it was probably Logan Paul trying to quell the fear inside him when he saw how ripped and in shape Floyd was.
A good example of what you could compare this situation too is what Mike Tyson said about his face offs with opponents. He noted that he knew an opponent was scared and already mentally defeated when they couldn't handle silence while he was staring them down.
Anything can happen in this fight, but it seems like Logan Paul is going to be battling Floyd Mayweather and extreme fear.
Author: JordanThrilla Staff