The news has finally come in confirming why Adrian Wojnarowski announced that Celtics were possibly suspending Ime Udoka, and the reason is much worse than the conspiracy theories that were floating around before this confirmation leaked. Based on the situation it's going to be a tough road ahead for him, on and off the court.
Why is Ime Udoka Possibly Getting Suspended by the Celtics?
According to WOJ Ime Udoka is facing a lengthy suspension for violating Celtics organization guidelines. His report confirmed that Udoka was not at risk of being fired, but it was very possible he could be suspended for an uncertain amount of time. The first thing that came people's minds was that Ime Udoka was betting on Celtics games, but apparently he was actually doing something much more worse behind the scenes. In short Ime Udoka was getting his Adam Levine on.
Based on recent reports Celtics management found out that Ime Udoka is cheating on Nia Long. Okay, so that alone wouldn't get a coach suspended, but Ime Udoka was smashing a Celtics staff member behind Nia Long's back. Not only did he break the rules of his relationship, he also broke the golden workplace rule. Never have intimate relationships with people you work with, especially when you're in a position of power. This news comes in the same week that Adam Levine got exposed for allegedly cheating on his wife then trying to name the baby after his mistress. It's been a crazy week for Hollywood relationships. Take a look at the confirmation that Ime Udoka cheated on Nia Long with a Celtics staff member.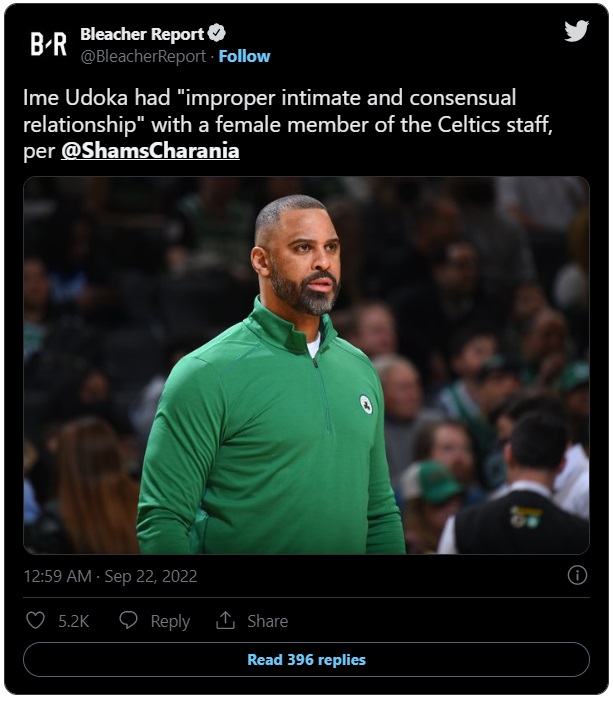 Scottie Beam's Reaction to Ime Udoka Cheating on Nia Long With a Celtics Staff Member Speaks Volumes to What Most People Think
Scottie Beam who is a famous model, media personality, and former Hot 97 producer said it best, "cheating on Nia long is crazy". Ime Udoka is probably going to lose a lot of fans over this one. Nia Long is like the queen of Hollywood in some ways.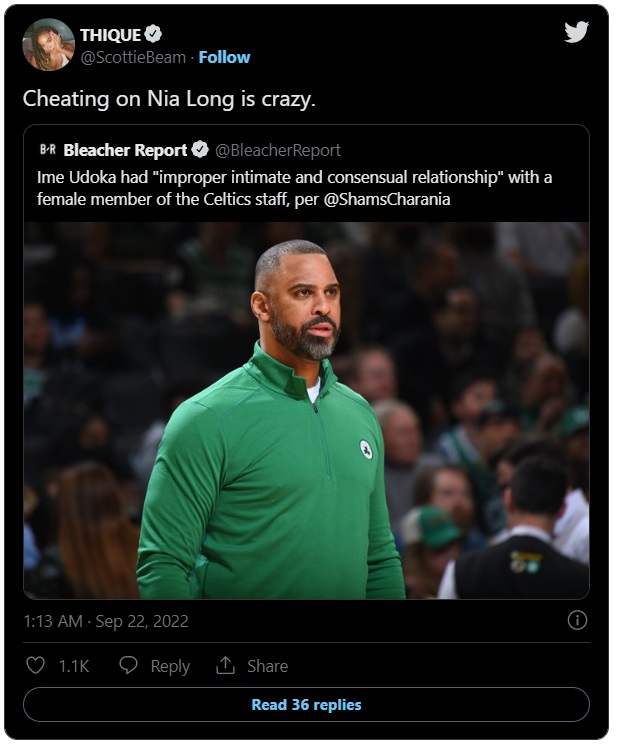 It's tough to think about what Nia Long might be going through mentally right now. Hopefully she didn't find out this tragic news from the social media announcement. This is a sad way for Celtics to start their season. It almost seems Celtics management is making a statement by making this go public, unless they didn't intend for his cheating to be leaked.
Will Ime Udoka be able to regain his focus with way this complexifies the Celtics work environment?