Last season Ime Udoka took the NBA coaching world by storm by leading the Boston Celtics to the Finals in his first year as head coach. People started thinking of him as the prime example of what a young coach should be like. However, his clean image is under scrutiny after news broke that he was facing possible disciplinary action for an unknown reason. Due to the vagueness of the situation many conspiracy theories are floating around, but one in particular is capturing the most attention.
Was Ime Udoka Betting on Celtics Games? Ime Udoka Gambling Conspiracy Theory Goes Viral after Possible Suspension News
According to WOJ Ime Udoka is facing a lengthy suspension for violating Celtics organization guidelines. Reports are saying that he's not at risk of being fired, but it's almost certain he will be suspended for an uncertain amount of time. With the mystery involving the situation people are wondering what he could of done to get in this much trouble. One of the first thoughts that came to many people's minds was that Ime Udoka was betting on Celtics games possibly during the playoffs. It seems like a scenario that makes sense considering he isn't a risk of being fired, but is at risk of a long suspension. Take a look at some reactions and the tweet announcing the news.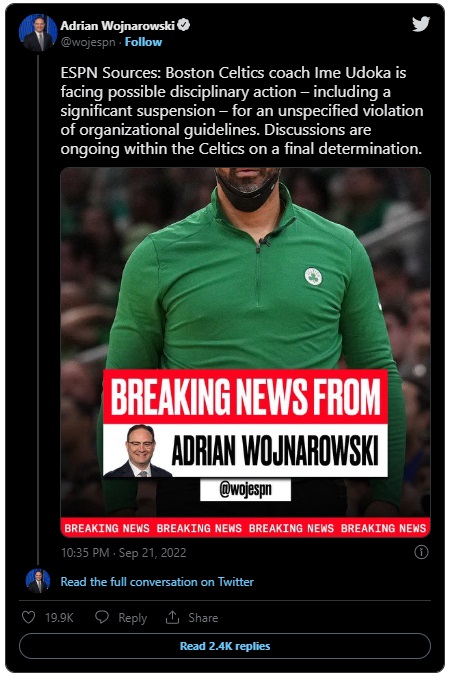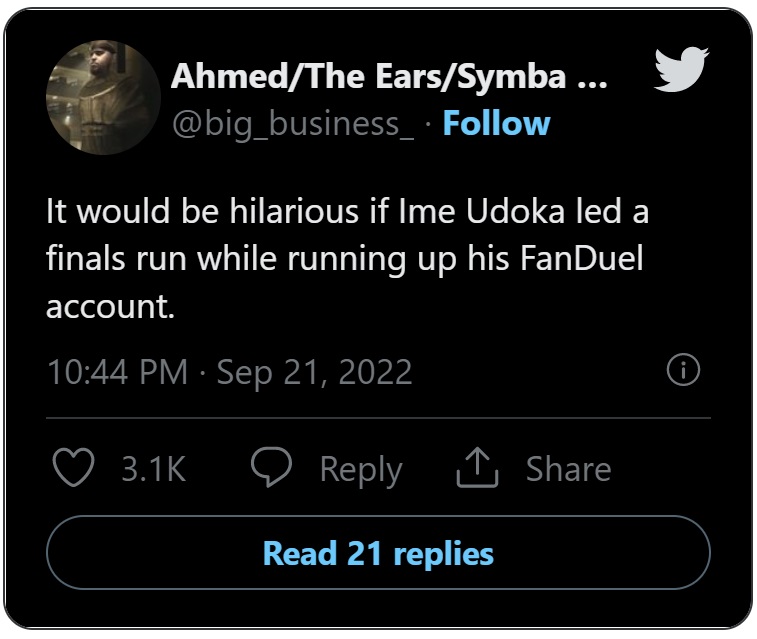 Whatever he did it must be serious considering the amount of times WOJ wrote "breaking" in his Tweet announcing the news. If Ime Udoka was betting on Celtics games that would be next level crazy, and would put his integrity in jeopardy going forward. In recent history there has never been situation where a coach who just had the magnificent season he did ends up getting suspended. Prayers up for Celtics fans.