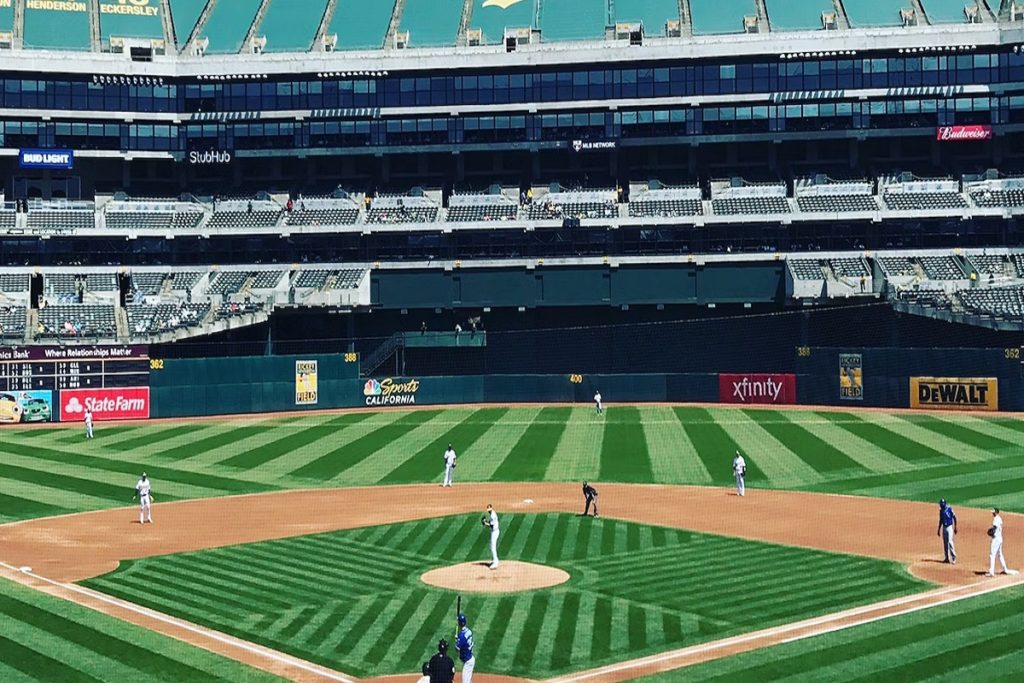 It's that time of the year again when crazy fans do wild things thinking that no one will notice. This time the incident involved a couple who were enjoying an Oakland A's game, then decided to spice things up a bit since the stadium was almost empty. Little did they know they would be internet stars overnight.
Woman Possibly Giving Oral Top in Man in Stands During Oakland Athletics Empty Arena Game Goes Viral
As you'll see in the footage below it appears a man and woman sitting at the very top level of Oakland A's stadium thought that no one was paying attention to them, then started doing what appears to be a very intimate act. As the man sat with his legs spread slightly a woman was on her knees with her face between them. While it's not confirmed people are speculating what she might have been doing, and everyone has came to the same conclusion no pun intended.
Social media is convinced the woman was giving head during the Oakland A's game. Considering that there was no one in their vicinity it seems they miscalculated the fact that cellphones are always recording these days. Usually people try doing this type of stuff in a dark movie theatre, or at least when it's nighttime. This couple may have been engaging in the intimate act in broad daylight on a hot sunny day. It's safe to say they are probably madly in love, and have a lot of passion for each other. Unless the crazy plot twist is that they met at the game.
Why is Oakland Athletics' Arena so Empty?
Despite the possibility of a woman giving head in the crowd during Oakland A's game, what stood out most was the empty arena. This has become a regular occurrence for them this season, and their attendance woes have been well documented.
What does say about a franchise when fans aren't even coming to their games much anymore? Hopefully this wasn't a planned stunt to attempt making more fans buy tickets.