Ever since retiring from the NBA Glen Davis has managed to keep his name in the headlines, usually for the most unexpected reasons. Whether it was him destroying the front desk of a hotel lobby, him breaking down in tears during a BIG3 postgame interview, or getting caught up in an insurance fraud scheme, the stories involving him are often surprising. That trend continued with the latest video he posted on social media.
Glen Davis' Butt While Swimming Naked in 'Have a Cheeky Day' Video Goes Viral
It's no secret that Glen Davis was one of the stockiest NBA players that has ever entered the league. His calf muscles put Ray Allen's to shame. His chubby stocky build is what helped him survive playing as an undersize power forward with limited athleticism. These days his build has him trending on social media after he recorded his pool adventure.
Viral footage shows Glen Davis naked swimming in his pool. His body wasn't visible at first, but once he began swimming away from the focus a little more than expected came into full view. Glen Davis' butt flashed out the water like a Whale popping up to get some air. It was almost like Glen Davis mooned everyone who watched the video. He hilariously captioned the video 'Have a Cheeky Day', which is a double entendre in this situation.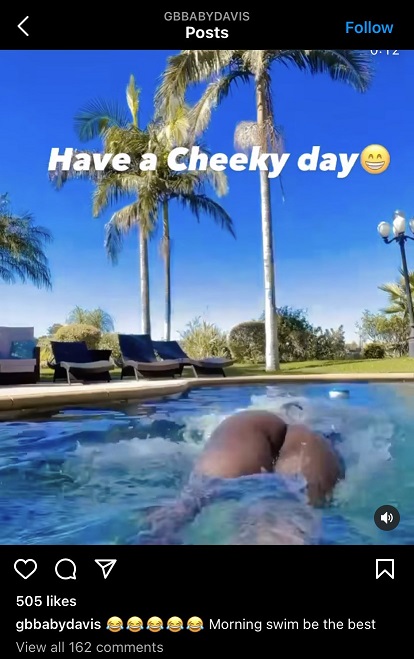 Glen Davis' butt has those Rikishi vibes going on if you're a wrestling fan. Rikishi had one of the most hilarious signature moves in wrestling history called the 'Stinkface', where he would literally use his butt to knockout his opponent. Glen Davis could easily pull off that same finishing move based on his swimming video.